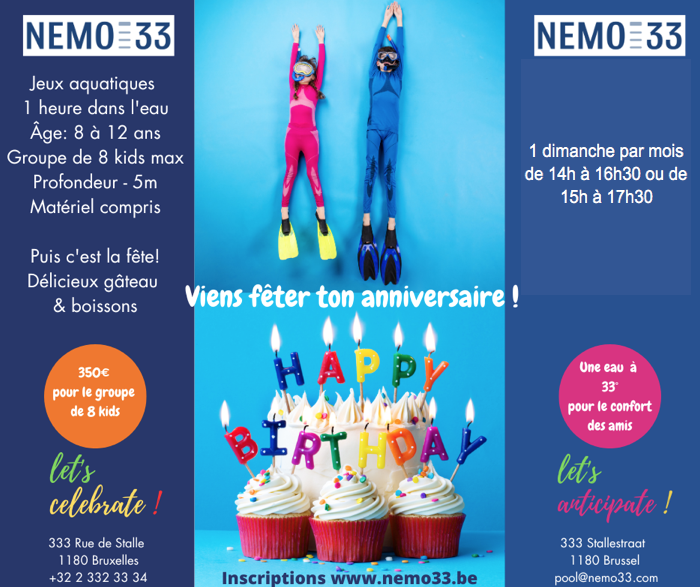 An unforgettable experience!
To celebrate your child's birthday, your child and his friends will immerse themselves in the warm and clear water of NEMO33, accompanied by 3 experienced instructors, and will discover in a playful way the first sensations of scuba diving, especially the most pleasant one: weightlessness.
The equipment provided is adapted to children: mask, fins, stabilizing jacket, regulator and air tank.
The young divers do not descend very deep; the diving takes place at a shallow depth (- 5 metres maximum). Water games are offered during the baptism.
During this time, parents and friends can watch the group through the large windows of the bar/restaurant while enjoying a drink.
At the end of this adventure, with their heads full of emotions, the children go back down to the restaurant to share their experience over a delicious cake.
Practical information :
Age: 8 and 12 years
Number: 8 children
Total duration: 2h30
Snack: cake from a Brussels pastry shop + 1 drink for the children
Document: parental authorisation to be sent to all parents
Price: 350 euros per group
Material to bring: swimming costume, towel, a 50 cent coin for the cloakroom
Consult the planning of this course and reserve your place.
Cancellation:
Do you have an unforeseen problem? You can cancel your session yourself free of charge up to 7 days before the activity. To unsubscribe, go to "My basket". You will then get your session back.
After this time, you will lose your session, unless you provide a medical certificate proving your inability to perform the planned activity.
Further information: pool@nemo33.com of 00.32.2.332.33.34